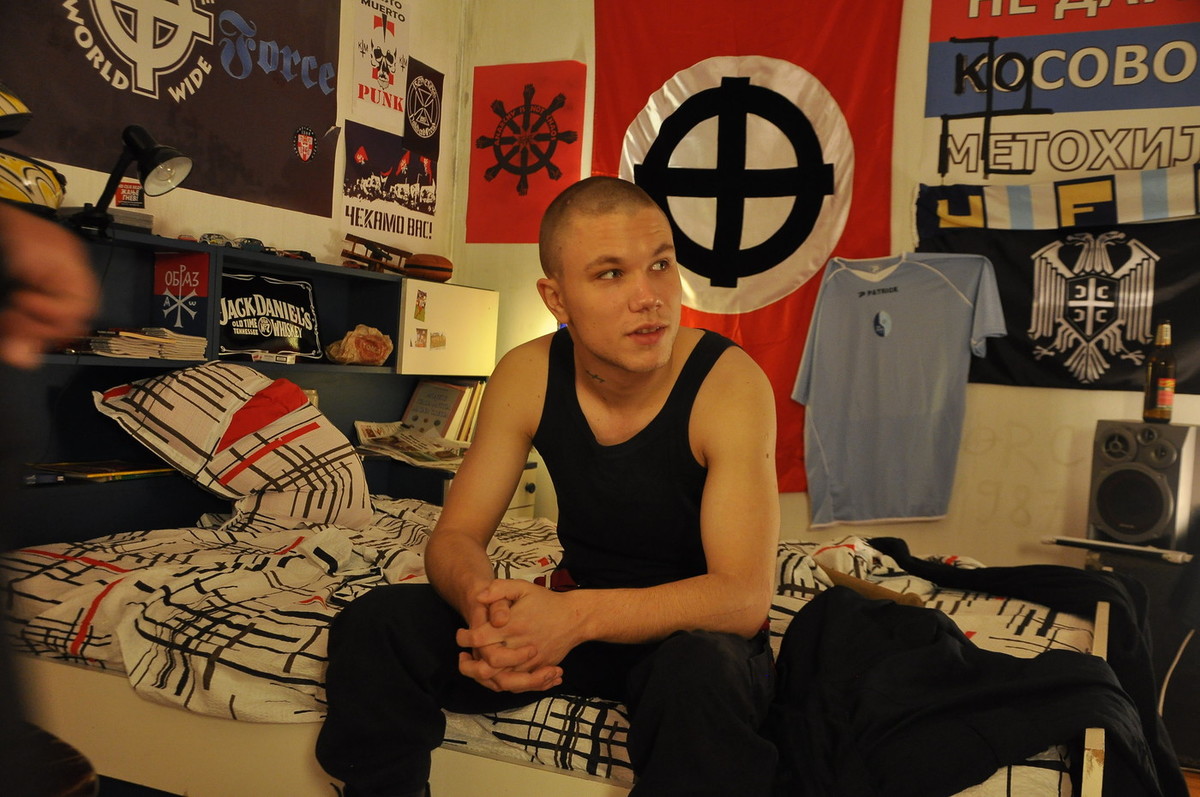 The Parade
Parada
A homophobic, middle-aged, Serbian gangster ends up sacrificing himself to protect Gay freedom in his country.
RADMILO (35) and MIRKO (30) are young and successful gay couple, and they would be a happy couple anywhere else except in - Serbia. They try to live discreetly but still, every day they are abused by the homophobic majority.
Plus, Mirko is a gay rights activist, and his dream is to organize the first successful PRIDE event in Belgrade. This is almost a "mission impossible"; in 2001, an attempt to hold PRIDE in Belgrade ended up in bloodshed. One decade later, the situation is not much better - nationalist and neo-Nazi organizations prepare another massacre in case of holding the gay parade, while the police refuse to provide protection for the participants.
A strange couple arrives in Radmilo's and Mirko's life - LEMON (45) an ex criminal and war veteran, the owner of a small security company and his fiancée - PEARL (30) a beauty parlor owner.
Radmilo, a successful veterinarian, performs a life-saving operation Lemon's pit-bull terrier, the victim of a drive-by shooting that served as a warning to the dog's master. Mirko runs an agency that organizes sophisticated weddings and now he has the ultimate nightmare clients - Pearl and Lemon.
The encounter between these two worlds ends in disaster - yet another humiliation for Radmilo and Mirko. Mirko had enough - not long ago he received Immigrant Visa from Canada and wants to leave the country forever. Radmilo is ready for a desperate measures to keep his partner and their relationship - He offers a deal to Lemon, asking that Lemon's agency provide protection for the Belgrade Pride. In return, Mirko will organize the wedding party for Pearl and Lemon.
Lemon reluctantly accepts, but his staff refuses to protect homosexuals. Put in a tight spot, Lemon thinks of his "dear" enemies from the ex-Yu wars. LEMON and RADMILO embark on a recruiting trip all over ex-Yugoslavia.
They manage to sign up for their mission: NIKO (45) a Croat war veteran, HALIL (40), a Bosnian Muslim, and AZEM (45), an Albanian from Kosovo. But the handful of "samurai" are yet to face their greatest challenge...

THE PARADE, in a tragicomic way, tells the story about ongoing battle between two worlds in contemporary post-war Serbian society - the traditional, oppressive, homophobic majority and a liberal, modern and open-minded minority.
Director's Statement
In the late 1970s, a small park just below the Moscow Hotel in Belgrade's downtown center was the gathering place for some twenty of us, punk rock fans. The same park was the gathering place for homosexuals, too. Not far from us, these neatly dressed family men with an impeccable Socialistic biography were looking for partners.

Besides sharing the same location, we had just one more thing in common - both groups were repeatedly bashing targets for healthy looking, and "healthy" thinking young men. They couldn't stand the sight of us, with our safety pins, dyed hair and ragged clothes, as well as the other group, but only because of their different sexual orientation.

Over the following decades, Belgrade has seen much "weirder" looks than our childish image that was just a mere revolt against the Socialist life. No-one gets bashed anymore because of the clothes they wear or the music that they listen to. But even today, in Serbia 2011, these "healthy" looking young men beat up men and women of a different sexual orientation not only in parks but on the streets of Belgrade.

After the fall of the Milosevic's regime, we thought that sexual minorities would finally gain their rights and dignity. In 2001, there was even an attempt for the first PRIDE Parade in the history of Serbia. The attempt ended in bloodshed - some thirty gay activists were brutally beaten up by football hooligans and neo-Nazis while the police just stood by doing nothing to stop this massacre. Images of this savage beating circled the globe and shattered the hope for young Serbian democracy, and the European Union revoked 50 million Euros of financial help for Serbia. A decade later, nothing has changed for the better.

With a "little help" from the Orthodox church, a wide spectra of quasi-democrat politicians in powerful places, who are desperate and frustrated from the wild and brutal transition, things has never been worse on the front of human rights - especially LGBT rights.
For me, this was a three year long process to finish the film and it was much more than a regular film-making.
Faced with a threats from nationalist and neo-Nazi organizations, shooting almost secretly, with a constant lack of money, I have always had in mind that making the PARADE is my citizen's - DUTY.

Even now in 2011, I believe that Serbia badly needs this story, just as I believed, more than a decade ago, that my country needed a film that would speak about the war and guilt in a different voice than the official. The result was "Pretty Village Pretty Flame" and two years later "Wounds", with the attendance of more than 1.5 million people in total. These two films were the first to spark the debate about the war and the responsibility for violent conflicts in ex-Yugoslavia.
I strongly believe that THE PARADE will have a similar effect to the Serbian nation. They will scream, they will shout but - they're going to watch it. And when they watch it - maybe they will think and reconsider their prejudices and stereotypes toward them whose only guilt is that they're different.
I was shooting the ending of THE PARADE during last year's Pride in Belgrade, the first "successful" Pride in the history of Serbia. The only success was that participants stayed alive. 6,500 Police were protecting less than 1,000 Gay activists & friends against 7,000 hooligans and neo-Nazis. The result of Pride was 300 wounded policeman and hooligans and the demolition of downtown Belgrade.

I strongly believe that THE PARADE will help so we can enjoy a happy and joyful Pride in Belgrade from this point onwards. Sometimes, Art can work in that way...
Srdjan Dragojevic
Awards
Panorama Audience Award Fiction Film, Berlin Film Festival, Berlin, Germany, 2012
Prize of the Ecumenical Jury, Berlin Film Festival, Berlin, Germany, 2012
Reader Jury of the "Siegessäule", Berlin Film Festival, Berlin, Germany, 2012
Audience award, Torino LGBT Film Festival, Turin, Italy, 2012
Best International Film Award, Galway Film Festival, Galway, Ireland, 2012
Best Film for the Jury, International Federation of Films Clubs, UK, 2012
Audience award, Freiburg Film Festival, Freiburg, Germany, 2012
Golden Arena for Best Script, Pula Film Festival, Pula, Croatia, 2012
Golden Arena for Best actress - Hristina Popovic, Pula Film Festival, Pula, Croatia, 2012
Grand prix - Golden Dolphin, Tróia International Film Festival, Setubal, Portugal, 2012
Audience Award - Golden Dolphin, Tróia International Film Festival, Setubal, Portugal, 2012
Best Balkan film, Prishtina Film Festival, Prishtina, Kosovo, 2012
Best actor, Mojkovac Film Festival, Mojkovac, Montenegro, 2012
Grand Prix, MedFilm Rome, Rome, Italy, 2012
Audience Award, Monpellier Film Festival, Montpellier, France, 2012
Titra Prize of the Jury des Jeunes, Lausanne Cine Festival, Lausanne, Switzerland, 2012
Audience Award, Brussels Mediterranean Film Festival, Brussels, Belgium,
Best Director, Tirana International Film Festival, Tirana, Albania, 2012
Best Editing, Tirana International Film Festival, Tirana, Albania, 2012